Custom Cannabis Accessories
Custom Cannabis Accessories
The Higher Promos team will help you select the custom branded cannabis accessories that are ideal for your needs and your budget.
There's no better way to promote your dispensary, farm or processing operation than branded accessories which your customers are sure to utilize. Make sure your brand is present and prevalent every time your customers are using your product.
Some of our most popular items are not shown on our website. Please call for a custom quote as our prices are subject to change, and virtual mock-up.
Pick a category below to view our wide selection of products!
Higher Promos offers new and exciting products not always available on our website. If there is something you're interested in, just ask! In the meantime, here are some of our newest and hottest favorites:
Rolling Papers
1-1/4" size and King Slim Rolling Papers are available for custom imprint. Imprint area is full edge to edge. Rice white paper, unbleached unrefined wood pulp, unbleached 100% pure hemp pulp, and pink papers are available. Matching boxes and cones are also available. Call for pricing on more. More information here.
Dab Straw
A portable self-cleaning electric vaporizer for vaping all types. Includes a ceramic stash container.
2-in-1 Enail
Dab pen that is also compatible with water pipes
More information here.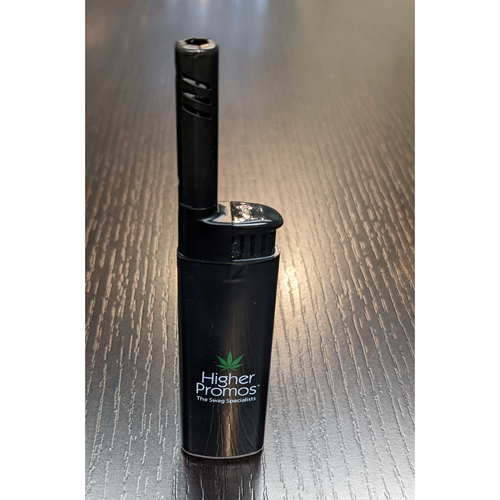 BIC EZ Lighter
Light one up with a customizable BIC EZ Lighter!
Self-Lighting Pipe
This SoloPipe trick pipe has a build-in butane lighter! Comes with mesh and glass bowl, and cleaning accessories. Choose from Silver, Rose Gold, Gunmetal, or Classic Gold. Your logo will be engraved or color printed.
Inquire for smaller quantities.
More information here.
Dugout with Side Grinder
Metal dugout grinds flower right into the storage compartment! Dip chillum into storage compartment, light and enjoy!
More information here.
Smell-Proof Stash Boxes with Built In Combo Locks
Premium 1680D Polyester covered hard-shell outer, heavy-duty zipper that seals tight to trap odors inside, and a top carrying handle. Available in Small or Large Sizes.
More information about Small stash boxes here.
UNIQ 510 Vape Battery
A truly unique (no pun intended) 510 cartridge battery option with a huge imprint area on the large button!

More information here.

Email sales@higherpromos.com or call 503-676-3420 for pricing.
Minimum orders $300.
Don't see it? We have it! Contact us now!
Call Higher Promos today at 503-676-3420 for a Great Variety of Decorated Apparel, Logo Imprinted Gifts and Custom Cannabis Accessories